My Favorite Web Design Books
In my career as a front-end developer and web designer, I've come across a variety of books about graphic design, information design, and user experience. To effectively design for the web you must draw from a wide range of ideas and schools of thought.
This following is a list of books that have helped me develop as a web designer.
Don't Make Me Think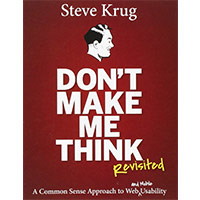 Steve Krug's Don't Make Me Think should be required reading for all web professionals. The genius of his book is that Krug lays out the ways in which people actually interact with websites. Users don't read the web, they skim. Users don't follow instructions, they muddle through. Krug draws on his years of experience as a usability consultant to give simple, evidence-based advice.
While Krug says that this is "not a book about usability for web applications", the majority of the content is directly applicable to web apps. The book is a classic and I'd argue that it's the single most important book on web usability.
Envisioning Information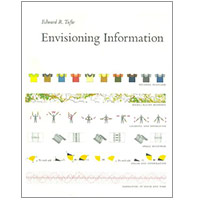 Envisioning Information by Edward Tufte is an absolutely gorgeous look at information design. His collection of examples is inspiring to anyone interested in presenting dense information in a way that is clear and accessible. Tufte uses both good and bad examples to argue that the principles of information design are universal, like those of Mathematics, and that they are not tied to a particular language/culture.
This book is a must-have for your coffee table. Every time I pick it up I find something new that inspires me.
Thinking with Type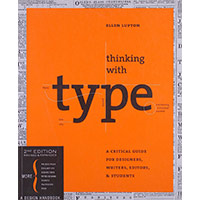 Typography is a very important part interface design on the web. Thinking with Type is a very accessible but still very deep dive into the world of typography.
The book looks at type as a visual element, and specifically how size, kerning, spacing and hierarchy can give meaning to type. On the web, type is often the most significant element on the page and getting it right requires a good understanding of typography. I often come back to this book as a reference, it's still one of my favorites.
Universal Principles of Design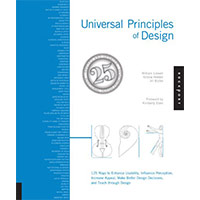 Universal Principles of Design is an "encyclopedia" of design and usability principles that highlights 125 disctinct design concepts with examples of their application. The book dedicates one page to the theory behind each concept and reserves a second page for examples.
Theories come from psychology, design and even research on perception and evolutionary biology. The book is a fantastic design reference that I continue to pick up and learn from.