Windows 98 Icons are Great
In my opinion, the UI design of Windows peaked in the late 1990s. The classic, utilitarian icons from Windows 98 just look amazing.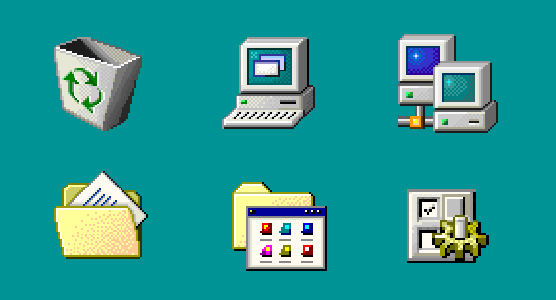 Why are they so good?
Rather than some designer's flashy vision of the future, Windows 98 icons made the operating system feel like a place to get real work done. They had hard edges, soft colors and easy-to-recognize symbols.
It's obvious that the icons were meticulously crafted. Each 256-color .ico file includes a pixel-perfect 16x16, 32x32 and 48x48 version that looks equally good on the taskbar and desktop.
Maybe its nostalgia, but I still prefer the classic icons of Windows 98 over the shiny, drop-shadowed icons of later years. You can download the entire Windows 98 collection of .ico files here.
Check this out!
If you're looking an nostalgic way to scroll through the whole collection of Windows 98 icons (including the many icon versions embedded in each ico file), check out win98icons.alexmeub.com.